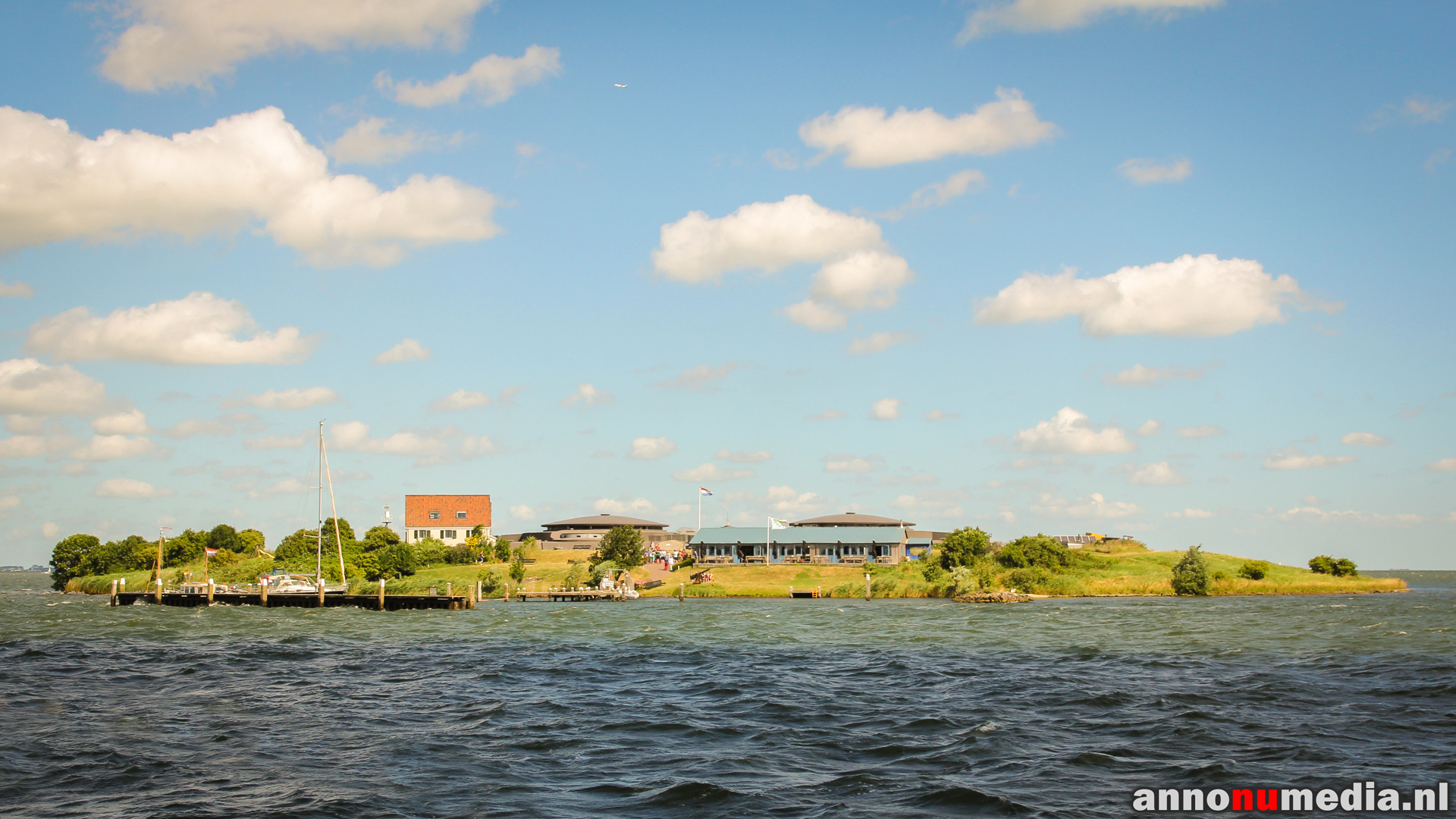 Fort Pampus
Fort Pampus - Nederlands
Om Amsterdam in roerige tijden te beschermen, werd in 1880 begonnen met de aanleg van een verdedigingslinie rond Amsterdam, de Stelling van Amsterdam. Onderdeel van deze verdedigingslinie was een stevig fort op een kunstmatig eiland voor de monding van het IJ, Fort Pampus, gebouwd tussen 1887 en 1895. Het fort is nooit voor oorlogshandelingen gebruikt en werd in 1933 alweer gesloten. In 1932 werd de bouw van de Afsluitdijk voltooid, waardoor het fort niet meer in open zee lag.
De uitdrukking 'voor pampus liggen' komt uit de tijd van de VOC. In plaats van de mannen bij thuiskomst na de lange reis hun gage op te laten maken aan drank en vrouwen, huurde de VOC een bordeel af en trakteerde de bemanning op vrouwen en drank als de schepen voor de rede van Pampus lagen. Na een paar dagen was men uitgeput en uitgeraasd en kwam het 'voor pampus liggen' ten einde. Daarna kwamen de schepelingen aan wal met hun gage en gingen naar huis. Het was immers gemakkelijker om nieuwe matrozen te ronselen als men thuis kwam met geld en sterke verhalen in plaats van even arm als toen ze vertrokken.
Fort Pampus - English
To protect the city of Amsterdam in turbulent times, the Stelling van Amsterdam (Defence Line of Amsterdam) was built between 1880 and 1920. Part of this defense line was a strong fortress on an artificial island at the mouth of the IJ, Fort Pampus, which was built between 1887 and 1895. The fort never saw action and the completion in 1932 of the Afsluitdijk cut the IJsselmeer off from the open sea. At this point Fort Pampus lost its strategic role and on 15 July 1933 the military abandoned it.
There is a well-known Dutch expression "lying for Pampus" used to describe people that are lying down knocked out. It stems from the time ships came home from long travels and had to wait for high tide at Pampus before they could enter the harbour of Amsterdam. Instead of letting the crew spend their wages on booze and woman, the Dutch East India Company hired the services of a brothel and treated the men on loads of booze and 'female company'. After a few days, the sailors were exhausted, came ashore and took their wages home. After all it was easier to recruit new sailors as they came home with money and tall tales rather than as poor as when they started their journeys.
Photo details
Camera: Canon EOS 60D
Lens: Canon EF-S 15-85mm f/3.5-5.6 IS USM
Exposure: 1/250 sec
F-number: F/10
ISO: 100
Photodate: August 3, 2013
Also in Full HD on my Flickr page.