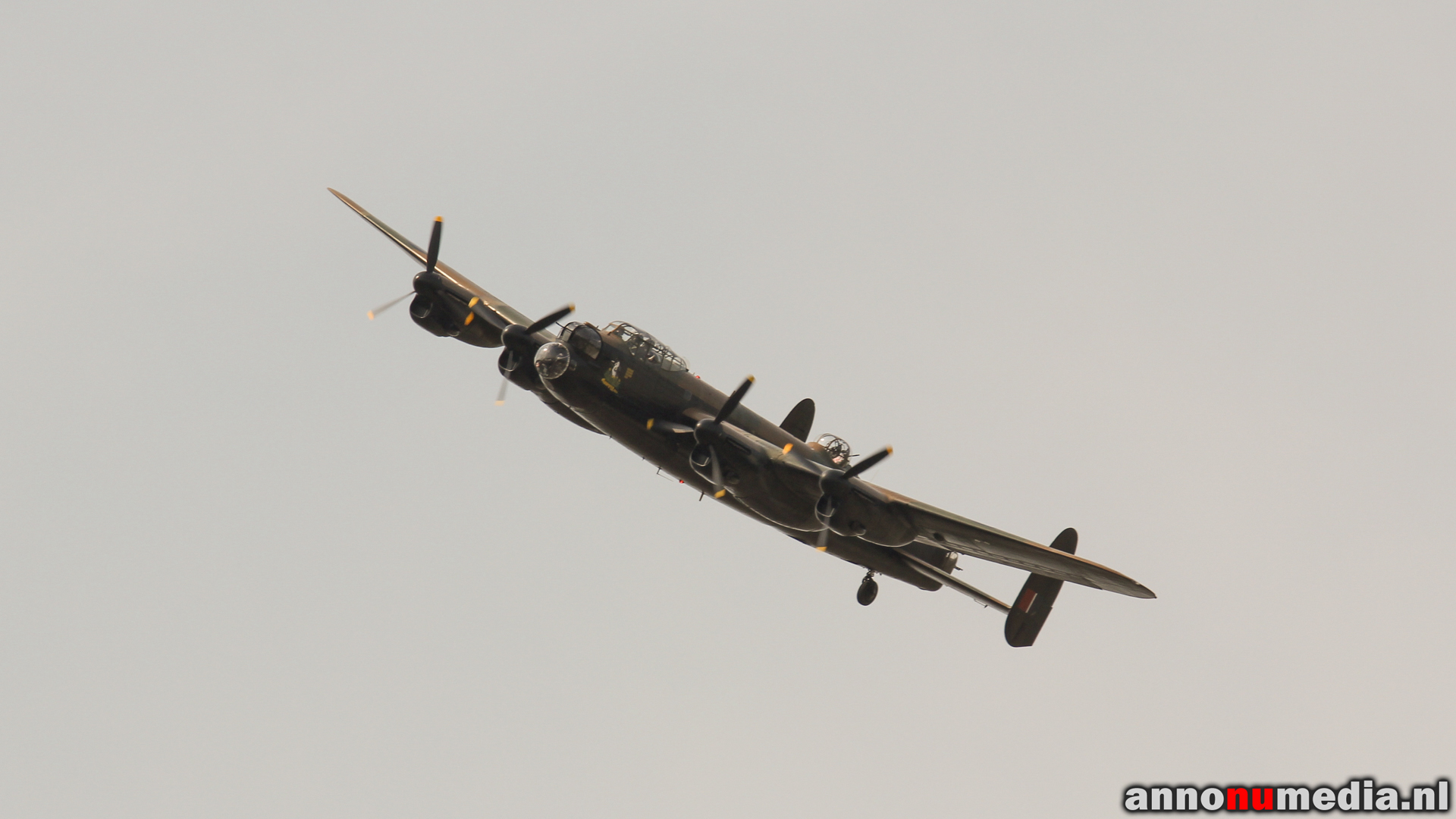 Avro Lancaster
Avro Lancaster - Nederlands
De Avro Lancaster is een zware bommenwerper met vier Rolls-Royce Merlin motoren en werd gebruikt in de Tweede Wereldoorlog door de Royal Air Force, de Britse luchtmacht. De Avro Lancaster is een verbeterde versie van de Avro Manchester, welke maar twee motoren had. De Lancaster is sinds 1942 actief en er zijn er in totaal meer dan 3200 verloren gegaan in de oorlog.
Van de 17 toestellen die nog over zijn, zijn er nog maar twee luchtwaardig; één staat in een museum in Mount Hope (Canada) en de ander is deze op de foto, nu van de Battle of Britain Memorial Flight. Deze Lancaster met serienummer PA474 werd in 1945 gebouwd en is vooral gebruikt voor verkenningsvluchten in Afrika. Opmerkelijk detail: vijf dagen na het maken van deze foto (op 7 mei 2015) is één van de motoren van het vliegtuig in brand gevlogen tijdens een oefenvlucht. Gelukkig heeft het toestel een veilige noodlanding kunnen maken en wordt weer gerepareerd. In mijn video van de fly-past die dit toestel maakte tijdens het Bevrijdingsfestival GO in Middelharnis, krijg je een indruk van de indrukwekkende verschijning van deze prachtige bommenwerper.
Avro Lancaster - English
The Avro Lancaster is a heavy bomber, equipped with four Rolls-Royce Merlin engines and was used in the Second World War by the Royal Air Force. The Avro Lancaster is an improved version of the Avro Manchester, which had only two engines. The Lancaster is active since 1942 and there are more than 3,200 lost in the Second World War.
Of the 17 surviving Lancasters known to exist, two are airworthy; one is in Canada, operated by the Canadian Warplane Heritage Museum in Mount Hope, the other is this one in the picture, operated by the Battle of Britain Memorial Flight. This Lancaster with serial PA474 was built in 1945 and was mainly used for reconnaissance in Africa. Remarkable detail: only five days after taking this picture (on May 7, 2015), one of the engines of the aircraft caught fire during a training flight. Fortunately, the plane was able to make a safe emergency landing and will be repaired. In my video of the fly-past this Lancaster made during the Dutch liberation festival in Middelharnis, you might get a hint of the impressive appearance this beautiful bomber makes.
Photo details
Camera: Canon EOS 60D
Lens: Canon EF 70-200mm f/4L USM
Exposure: 1/800 sec
F-number: F/7.1
ISO: 100
Photodate: May 2, 2015
Also in Full HD on my Flickr page.